Bruce Street is pleased to be able to add streaming television services to its offering! As technology advances, IPTV has improved drastically and is now positioned to offer a viable alternative to more expensive standard solutions like cable and satellite providers. These services often force users to bundle services to obtain "better" overall pricing, but in doing so, force feed hundreds of unwanted channels in obscure packages driving the overall pricing higher.
While streaming platforms such as Netflix, Amazon, Disney, Apple TV, etc. are quickly becoming the most popular entertainment viewing options, many people still want options for viewing local news, sports and community based programming. Bruce Street believes that users should be able to streamline their own viewing choices, at reasonable prices. Accordingly, Bruce Street has partnered with Atop TV to offer packages that feature local stations for as low as $20, and a la carte optional channels for as low as $2 each! If you are looking to "cut the cord" or get out of expensive bundling plans with limited flexibility, here are some amazing and affordable alternatives.
SKINNY ONTARIO TV PACKAGE
This package includes most of the standard Ontario based and regional U.S. stations that you are used to, all for only $20 per month! No contracts or hidden fees. Cancel or change anytime.
ONTARIO PLUS TV PACKAGE
For only an additional $10 per month, this package includes another 35 popular channels, including many specialty sports, children and movie programming.
(*Please note this package requires the Skinny Ontario TV Package)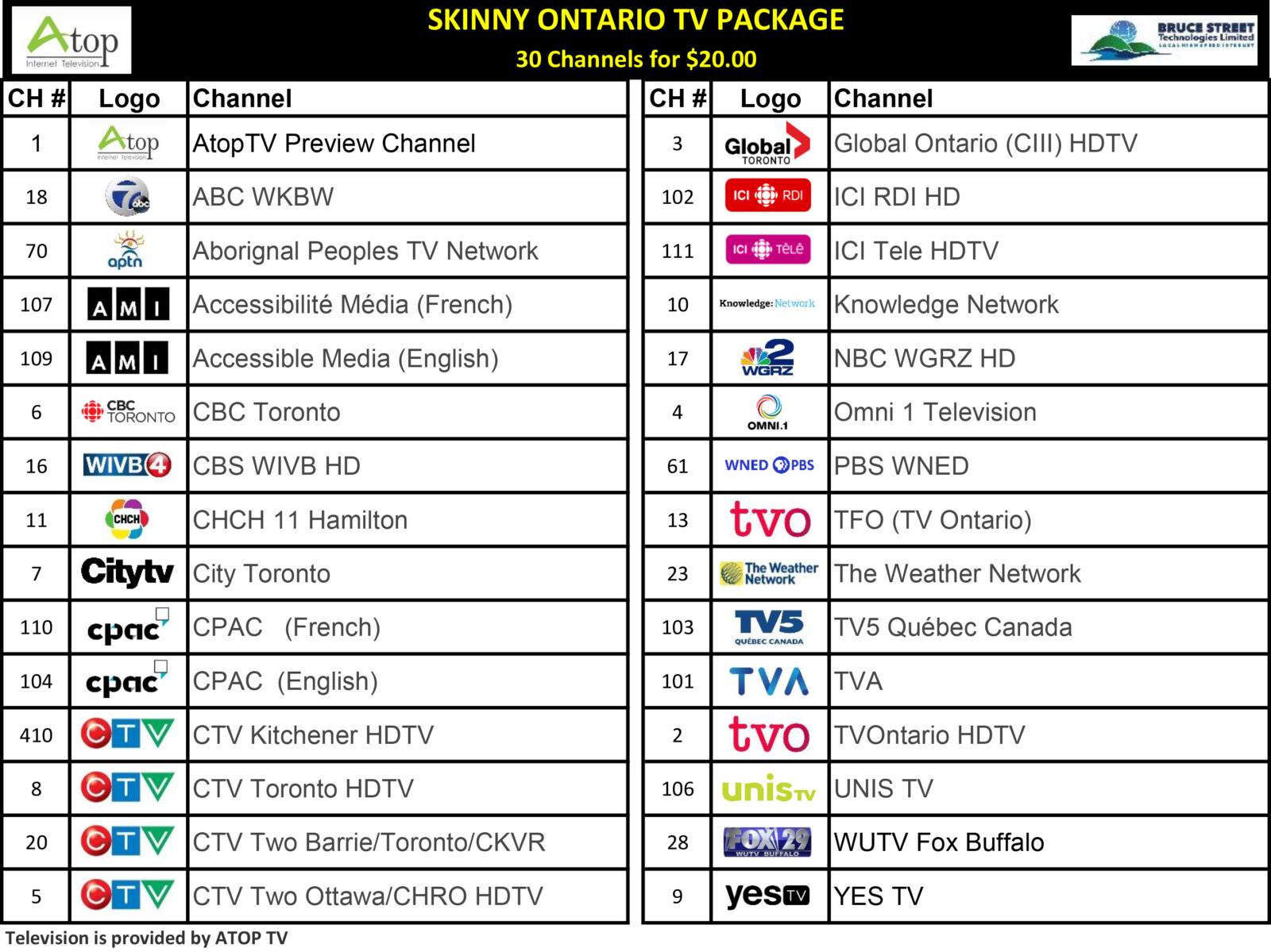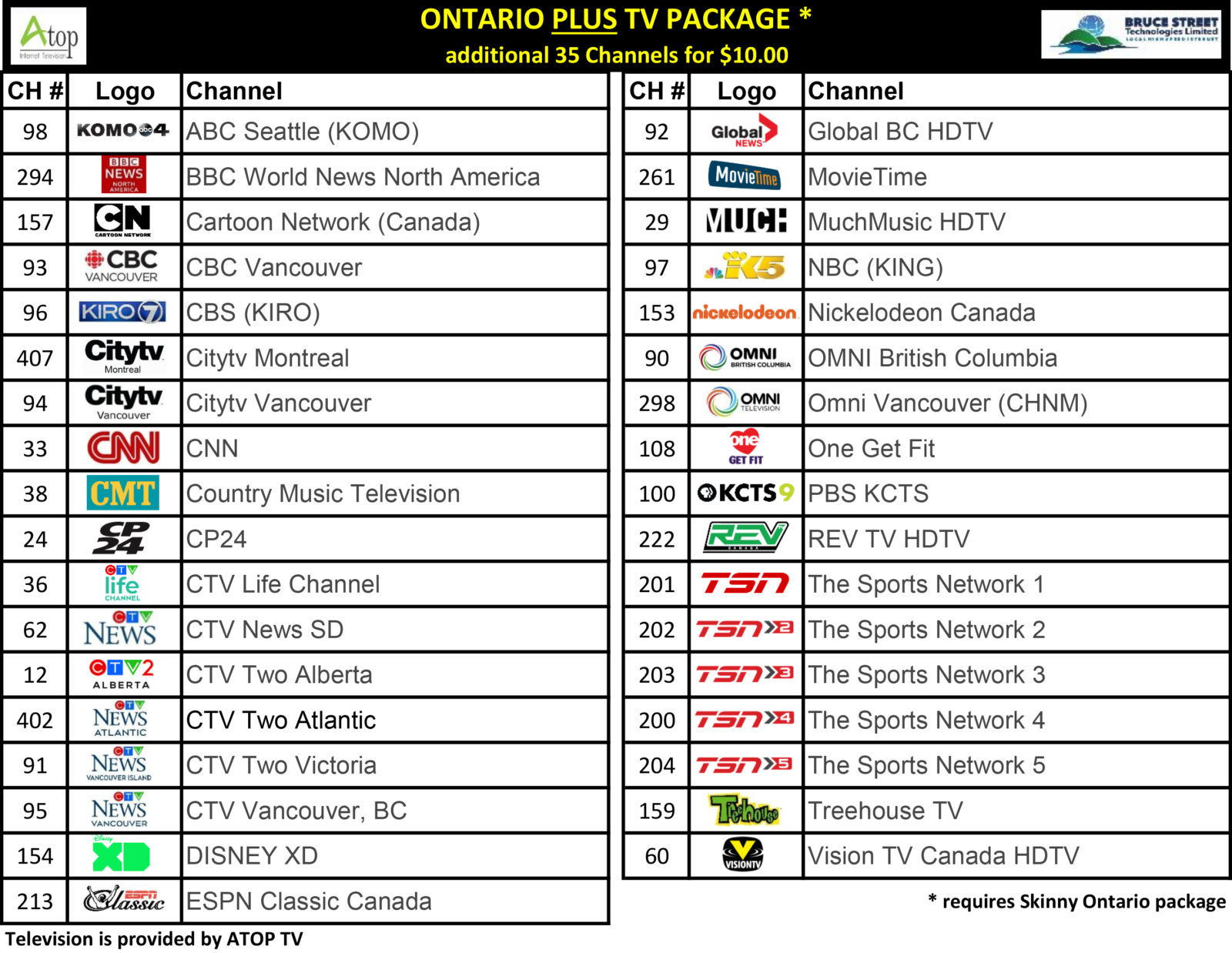 ADD-ON TV PACKAGES
Not interested in the Ontario Plus TV Package, or are there other specialty channels you would prefer, or like to add. Simply choose from a variety of Atop TV themed specialty channels.
(*Please note all packages except the Lobby Commercial Package require the Skinny Ontario TV Package)
A LA CARTE TV CHANNELS
Finally, are you looking for a specific channel without having to pay for other channels that you don't want? Choose whatever individual Atop TV chanels you want from the chart below for $4 each for up to 4 channels, or choose 5 or more channels for only $2 each!
(*Please note these channels require the Skinny Ontario TV Package)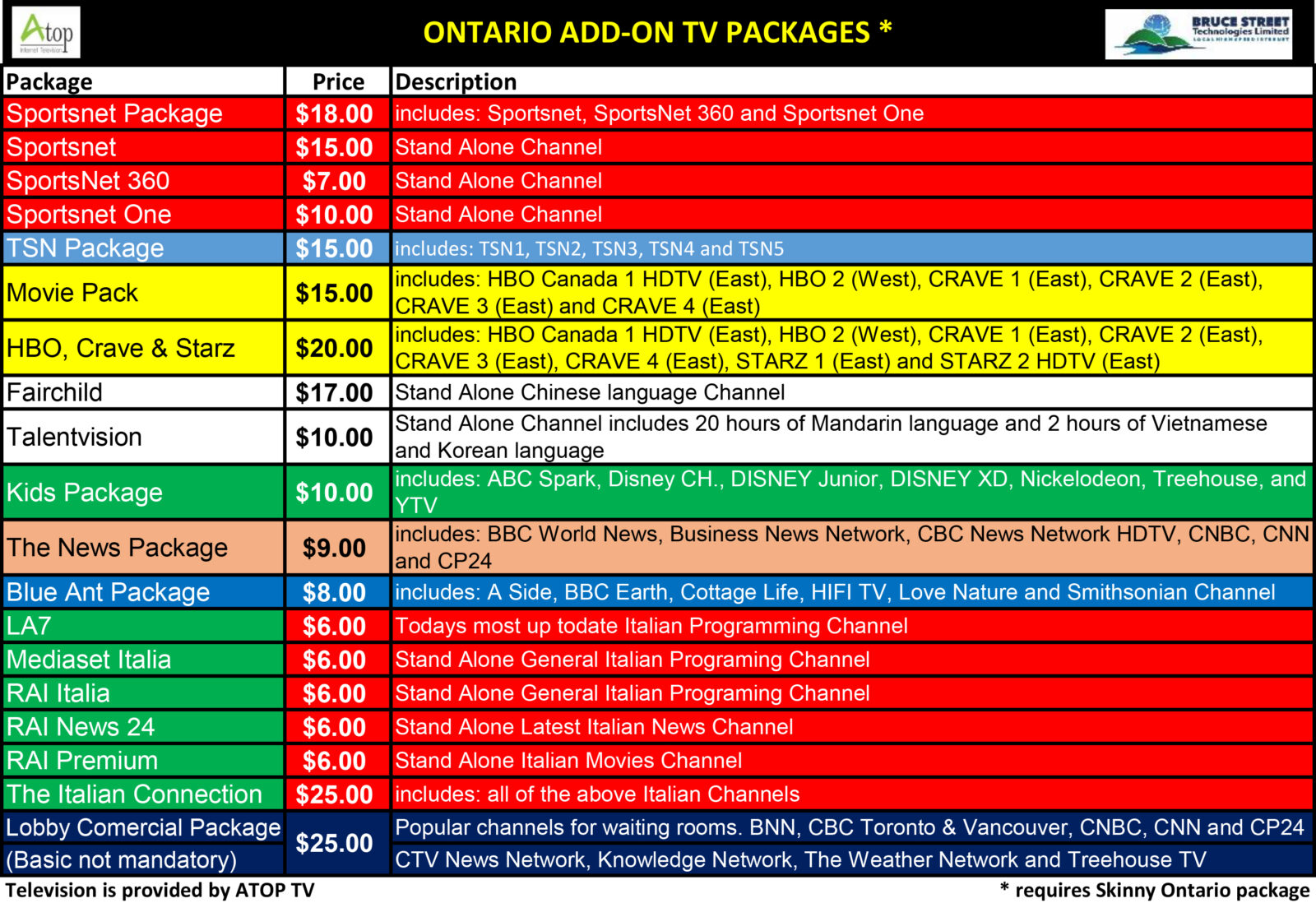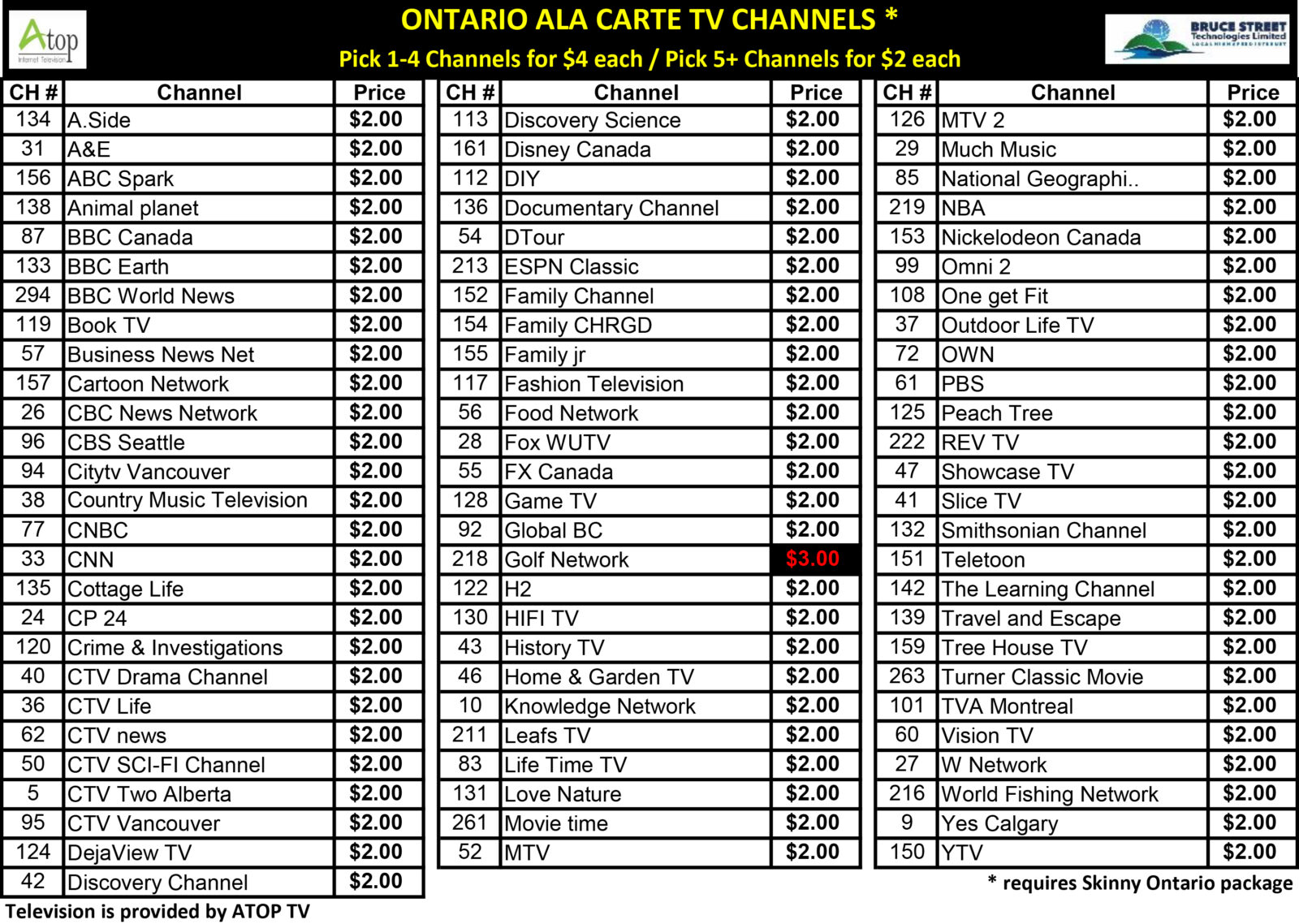 HOW DOES IT WORK?
It's very simple. Instead of a clunky, overpriced set-top-box, Atop TV is an "app" available through the Amazon (Firestick), Apple and Roku stores. Just plug your device into your TV, download it, and enter your four (4) digit activation code. Once verified and registered, your network connection will be private [to comply with our content agreements], and that is it. You will be watching high quality, Linear TV for less than you pay today. If you have multiple TV's in your home, don't worry. You can install up to 3 devices in your billing location.
Apple TV (4th Generation or newer) is a digital media player and micro-console developed and sold by Apple Inc. It is a small network appliance and entertainment device that can receive digital data from a number of sources and stream it to a capable television. Apple TV is an HDMI-compliant source device. Apple TV allows you to watch paid and free content from the Internet such as ATOP TV, Netflix, Amazon, YouTube, and much more, on your TV. You can purchase this device at any Bestbuy, Walmart or Source location as well as on-line at various retailers including Amazon.
Roku (Version 3 or higher) and the Amazon Firestick connect to the Internet through your existing Wi-Fi network or Ethernet cable. You will need a Frontier Networks Internet connection to use it. They allow you to watch paid and free content from the Internet such as ATOP TV, Netflix, Amazon, YouTube, and much more, on your TV. Roku comes already installed on many TV's sold today. Atop supports the Roku Version 3 or better. You can purchase these devices at any Best Buy, Walmart or Source location as well as on-line at various retailers including Amazon.
If you have any questions regarding the Atop TV set-up, programming or costing, please contact us at 519-599-3689 or [email protected].