March 15, 2020
BRUCE STREET COVID-19 STATEMENT 
To our Valued Clients,
As the COVID-19 Pandemic continues, we understand the importance of Internet access and the service we provide to the community. As we are all asked to limit physical interaction and personal contact to slow the spread of the virus, virtual connections to family, friends and work become more important. Bruce Street Technologies and staff have always strived to ensure that we maintain a robust network capable of seasonal and emergency surges in usage. Our network is already designed to allow for the greater upload speeds required for videoconferencing, file transfer and VPN's. Should you require additional upload capacity to accommodate telework, please contact us.
We always maintain surplus network capacity to accommodate any sustained surge in usage and spare replacement equipment should any failure within our control occur. As always, we are continually monitoring the network and will minimize any disruption in service should it occur. Additionally, we are attempting to accelerate planned network upgrades to further increase speed, capacity and add new features.
Since 2017, most of our access plans have included unlimited usage. The legacy and remaining packages have a capped billing feature to allow unlimited usage. We are in the process of individually reviewing the accounts for those customers who haven't migrated to an unlimited package to ensure they continue to receive the best value based on their usage.
We are closely monitoring the health and well-being of our staff. They are being diligent in recording their interactions with the public and will continue to do so. From time to time, the public will visit our office and we are required to go to client locations. We kindly ask that you do not visit our office and notify us in advance if we are required to come to your location if the following applies to anyone in your household:
- Fever
- Cough
- Difficulty breathing/shortness of breath
- Have traveled to any area with an ongoing spread of COVID-19
- Live with someone who recently traveled to an area with an ongoing spread of COVID-19
- Have been in contact with someone known to have COVID-19 or experiencing symptoms similar to the Flu or COVID-19
There are many reputable online resources available to help you prepare, stay safe and stay healthy such as the Public Health Agency of Canada:
https://www.canada.ca/en/public-health/services/diseases/coronavirus-disease-covid-19.html
Please feel free to contact us if you have any questions or concerns.
Blair Almond
President,
Bruce Street Technologies Limited
March 26, 2020
BRUCE STREET PROCESS CHANGES FOR COVID-19
We apologize in advance for the requirement of needing our customers to follow and respond to such a formal document and process.  We're a small local company that takes pride in its friendly interactions and customer service.  However, unprecedented times require unprecedented actions.
Bruce Street is focused on maintaining the resiliency of our networks, and protecting our facilities and critical business functions to ensure service continuity, including capacity management, backup, recovery and relocation of systems as necessary.
However, we are taking precautions consistent with the recommendations and guidelines set out by the World Health Organization (WHO) and the Government of Canada to keep our customers and employees safe during the COVID-19 pandemic.  Please be advised that Bruce Street has reviewed its onsite customer service processes for maintenance and installation procedures. Please review the following information: 
Technicians will only enter a customer's home if and when it is required to complete the work.

If the work is able to be completed outside, the technician will communicate with the customer from a suitable distance, or by phone.

If technicians are required to go inside the home, prior to entering the home the technicians are required to call the customer and ask the questions below to determine if it is safe to enter the home.

These questions are necessary to determine:

if a customer or close family member has contracted the virus

if a customer or close family member has a travel history which may indicate the presence of the virus

if a customer or family member might be considered vulnerable to effects of the virus
Step
Action
1

Bruce Street agents who have determined that a technician visit is necessary must ask the customer:

1.      Have you or any of your family members traveled outside of Canada in the past 14 days (as of the date of the customer's call)?

2.      Are you or a family member displaying flu-like symptoms of a cough, fever or difficulty breathing?

3.      Are you or a family member considered vulnerable?

a.      If the customer isn't sure who might be considered vulnerable, they can view the criteria at the Government of Canada's website to determine if there is a potential risk:

https://www.canada.ca/en/public-health/services/publications/diseases-conditions/vulnerable-populations-covid-19.html

2

If the customer responds YES to questions 1 or 2, Bruce Street agents must ask them to call back:

·   14 days after their return to Canada (provided they're not displaying any symptoms)

·   When any symptoms they are currently displaying have subsided

3

If the customer responds NO to all 3 questions, Bruce Street agents can schedule the technician's visit as per the usual process.

4

If the customer responds NO to the first two questions, but YES to the 3rd question (vulnerable person on the premises), Bruce Street agents must advise the customer that while we strive to ensure the health and safety of our staff, some COVID-19 infections are asymptomatic (not showing symptoms) and we can't guarantee that our staff are free of infections.

If the customer still wants the technician to visit, Bruce Street agents can schedule it as per the usual process.
If the customer responds YES to the 3rd question but does NOT consent to a technician coming to their home, an appointment will not be scheduled.

5

Before/during the technician visit:


Bruce Street agents will proceed with a call-ahead process, 30 minutes prior to the visit and/or at the site, to identify cases where the situation has changed from the time the order was first booked.Technicians must ask the same questions to ensure that they are still able to proceed with the onsite visit:

 Have you or any of your family members traveled outside of Canada in the past 14 days (as of the date of the customer's call).

 Are you or a family member displaying flu-like symptoms of a cough, fever or difficulty breathing?

Are you or a family member considered vulnerable?

If the situation has changed and the customer responds YES to any of the questions, technicians will not enter the premises.

If the customer responds NO to either of the above questions, the technician will again advise the customer that, while we strive to ensure that all of our employees are healthy, some COVID-19 cases show no symptoms and we can't guarantee that they are free of infection.
In order to respect the health and safety of end customers and technicians, Bruce Street employees are free to elect not to serve homes of customers who recently traveled outside the country, are exhibiting symptoms, or are quarantined or self-isolating. In these instances, the technician will do everything possible outside the home to provide, restore or improve service, and will supply the necessary equipment for the customer to use inside the home.
Please note that these measures are temporary and will be followed until the proper Health officials deem it unnecessary. Your understanding and collaboration are essential and appreciated in these extraordinary times. We appreciate your support in our ongoing effort to provide service while ensuring the health and safety of Canadians.
If you have any questions about this notification please contact a Bruce Street representative at 519-599-3689 or info@brucestreet.com.
Bruce Street Technologies Limited is now able to offer in-town high speed internet service!
After many years of specializing in servicing our rural areas, we are now able to provide high speed internet to any area that is currently being serviced by Cable or DSL service. Please contact us to compare our competitive rates against the major telco's!
Sykes Street Bridge Webcam!
Bruce Street Technologies has installed a webcam on the Mercantile Building at the corner of Sykes and Trowbridge Streets. It is pointed at the Sykes Street Bridge so you can follow the progress of the bridge renovations in real time!
Click on the image to visit the website page and see the live video feed.
Why Bruce Street Technologies?
We have been a local provider of high speed wireless Internet Access in the Meaford/Thornbury/Town of Blue Mountain areas for over 10 years and as a result, are aware of the somewhat unique requirements of the residents of the area and the challenges of providing quality services in a non-urban environment.
We access the local fiber optic trunks in the community to minimize connection and latency issues caused by excessive relays. Our growth as a company has benefited greatly from word of mouth referrals from other, satisfied customers.
---

Money Matters...
Of course, you can have all the advantages that modern technology can provide, but if it's cost prohibitive, there is no advantage.
We understand that the rural standard of living is a factor and, despite the fact that infrastructure costs for rural technology is often more expensive, we are committed to ensuring our rates are extremely competitive! Check our rate Packages here...
Site Surveys
Bruce Street will conduct a free site survey at your location to determine if we are able to provide wireless access. Simply complete and submit the Site Survey Request Form, or contact us 519-599-3689 and we will contact you to arrange a visit.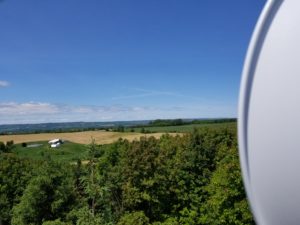 ---
Referral Rewards
Bruce Street will pay $20 to existing customers for each new customer referral!
Simply have the interested individual write your name in the Referred By section when they submit the BST Sign Up Form.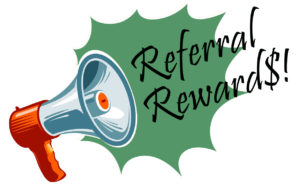 We have been customers of BST since 2007 and we of all people, are in a good position to provide a reference.  We live on the Escarpment where, there were very few service providers.  We definitely needed a custom-solution and BST was willing to work with us so we could have high-speed internet.  We have frequent power outages, our trees have grown blocking the signal and we now have other habitable buildings including gym & guest house.  All of these needs for reliable high-speed wi-fi have been met by BST with innovation, diligence and excellent customer service.  Other providers have now come to the area and there is no way we'll leave BST because they didn't quit on us.
Kind thanks to Blair and his team.
D.I.
________________________________________________________________
I have to say, your internet service has to be at the top of list, if not the best.
We are very satisfied with your internet service. Take care.
L.B.
We have been clients of Bruce Street Technologies for nearly a year. We are located in a rural area between Meaford and Owen Sound.  We struggled for years with horrible, slow and way too costly internet service.  There was no ability for flat fee, high speed internet where we live – or so we thought.
A neighbour introduced us to Bruce Street Technologies and they initially weren't sure they could serve us where we lived, but they came to see us anyway and helped us find the perfect spot to place the equipment for optimal service – and it worked!
We are extremely happy with the quality and speed of the internet service.  All communications and concerns have been dealt with professionally and quickly and we wish we knew this was possible a long time ago. We would recommend the team at Bruce Street Technologies without hesitation.
Sincerely,
J.H. and T.C.